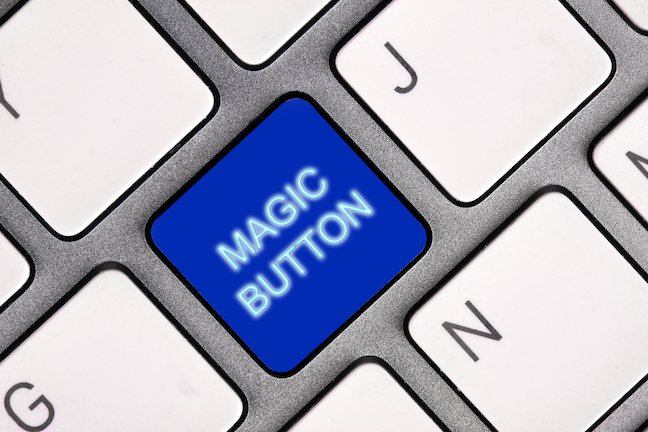 Lee truly cares about other people and that compassion will serve her well in helping them get the best results.
– A. Bronsted
Schedule Mediation with Lee Wallace
By Mediator Lee Wallace
© 2019
Mediation is the superhero of legal disputes. It's faster, cheaper, less stressful and more predictable than a trial. If you are like most lawyers, you're a fan.
But your client may have only a fuzzy idea of what a mediation is, and no idea at all about why it matters so much.
If you want to increase the chances that your client will settle at mediation, give her a bird's eye view of the reasons mediation works. When your client climbs on board the train, she will be invested in the process and more involved in the negotiations. Help her understand the "why," and you will have an easier time getting her buy-in when the parties reach a deal you think is fair.
Here's the Magic Button
To make your task easier, I have a free, downloadable booklet that you can print out and hand to your client. The booklet has four pages devoted to the "why" of mediation. In addition to making it easier for you to get your client ready, part of the purpose of the booklet is to reassure your client that you are fully prepared and ready to represent them in this next phase of the case. To maximize the chances of a successful mediation, you want the client to have faith in you and be willing to take your advice.
On two pages, I tell the story, "What 24 High School Students Taught Me About Mediation," which details my law school mock trial experience. We wound up with two high school juries — and two opposite verdicts. I learned that the jury system does not always produce clearly predictable results.
Download free mediation booklet for clients.
The booklet also has two pages devoted to explaining some of the reasons that lawyers typically believe mediation makes good sense:
You can control the result, instead of handing your case off to 12 strangers who are selected precisely because they don't know you or the facts of your case.

You can get faster results, instead of waiting to get on a trial calendar.

Trials require a substantial time investment from the parties, the lawyers, and the witnesses. Mediation is over and done in a day.

Trials are expensive. The defendant is paying his lawyer for the trial time. If the plaintiff's lawyer is working on contingency fee, the plaintiff may not have attorneys' fees, but the costs still mount up, as the parties pay experts, create trial exhibits, schedule video trial depositions, purchase transcripts, etc.

Trials are typically scorched-earth events, where feelings cannot matter and one side wins and the other side loses. Mediation, on the other hand, gives the parties a chance to work together, and more creatively. They can look at outside-the-box solutions that a jury cannot even consider.

Lawyers tend to be adrenaline junkies, and even so, they have to admit — trial is stressful. The stress we feel is a fraction of what our clients feel. Mediation is calm by contrast, while the parties sit on comfortable chairs in quiet conference rooms, with the mediator acting as a go-between to defuse the conflict.

As I learned the day of my law school mock trial, jury trials are not as predictable as lawyers like to think. At a mediation, you get to see the demand or offer before you take it, so you can make a reasoned decision about whether to accept.

Resolving a case lets the clients move on. Individual clients can process their grief and focus on the next steps in their lives. Corporations can move out of financial limbo and concentrate on business.
Schedule Mediation with Lee Wallace
Read more about mediation at Lee's blog
What Attorneys Are Saying About
Mediating with Lee:
"Lee's vast experience as a practicing attorney gives her credibility with clients who listen, because they know she knows what she is talking about. That said, she never tries to tell clients what to do and is very respectful of their reasoning and particular situations. Lee truly cares about other people and that compassion will serve her well in helping them get the best results. Lee is a great mediator and I hope you will grant her the opportunity to try to resolve your case as well."
– A. Bronsted
"We're going to ask for Lee again, and again, and again!"
– S. Mahoney
I recently had the pleasure of having Lee Wallace serve as a mediator for a difficult wrongful death case. A prior mediation had failed, so I had little hope that this ensuing mediation would be successful. Indeed, there were several times that my client was ready to terminate the mediation, but Lee counseled us to stay. Ultimately, while it did not settle that day, she established a framework that allowed the parties to settle the case soon after the mediation concluded that day. Lee did a great job of staying with the matter and seeing it to conclusion. I highly recommend Lee as a mediator.
– P. Strott
Lee Wallace is both a brilliant lawyer and a very nice person. She gives her all to a mediation assignment. She is a hard worker, with a very quick mind, who is able to thoroughly understand the important aspects of even very complicated factual situations and knows how to apply the law to them. She got my difficult case settled and I will not hesitate to seek to use her again."
– K. Pollock
"I recently had my first mediation with Lee Wallace, and I must say it will not be my last. She did a great job facilitating negotiations, and helped each party grasp both the strengths and the weaknesses of their arguments. I would not hesitate to recommend Lee Wallace as a mediator for your case!"
– B. Collins
"Lee Wallace exceeded all my expectations as a mediator in a Personal Injury suit presented before her. Lee's experience, education and demeanor was amazing and she gained trust from both parties at the very beginning. Not only was she polished and highly professional, she was thorough and did not waste time bringing the mediation to a successful conclusion. Overall a very pleasant experience and my client was pleased with the result as well."
– D. Russell
"Lee had the intellect necessary to get a really difficult case settled even where the odds were stacked against her. I would use Lee to mediate any of my cases."
– A. Joffe
"Lee helped get a case settled that I never would have imagined would have settled that day when I walked into that mediation. Opposing counsel and I had drastically different views of the case, as did our clients. Yet, with Lee's knowledge, experience, and preparation, she was able to lead us to a resolution that my clients were satisfied with. I look forward to using Lee again in the future!"
– A. Grubbs
"Lee's calm reasoning and creative solutions helped us to resolve a challenging case when one side was willing to walk away and the other side would not budge on their number. She worked hard to find a compromise when none seemed possible."
– B. Strothers

"Lee brings to her mediations a wealth of experience from which all parties can draw. Her impressive ability to marry the case facts to negotiation strategy aided in the just resolution of our case."
– N. Campbell

"Lee was prepared, having read all the documentation I had forwarded her pre-mediation, and she did an outstanding job in getting a difficult case settled. I look forward to using BAY Mediation and Lee in the future."
– M. Smith
"Lee Wallace helped us resolve a case that I did not believe could be resolved. As an initial challenge we had multiple parties, several of whom had to join by remote video conference. The details of the case were also challenging [and] there were widely disparate views regarding case value. Lee was resolute, objective, and prepared. While her 30 years of trial experience and breadth of knowledge on a variety of legal issues were invaluable, her kind and logical demeanor got this case resolved. I must confess at one point I was ready to storm off myself in frustration at the other party, but Lee encouraged me to stick with it and keep working. I'm so glad she did!"
– A. Long
"It was a pleasure working with Lee T. Wallace during the mediation process. She pushed both sides to continue to fight through the process and not give up. And because of her vigorous determination I was able to settle my client's claim to their satisfaction."
– S. Carson

"Lee did an effective and efficient job getting this case to a successful resolution. She takes a low key approach to make sure each side does not feel undue pressure to increase their offer or decrease their demand. I will definitely use Lee for future mediations."
– J. Brown